Algonkian Writer Conferences - Events, FAQ, Contracts


Algonkian events nurture intimate, carefully managed environments conducive to practicing the skills and learning the knowledge necessary to approach the development and writing of a competitive commercial or literary novel. We believe you were not born to be a good or great author, but that you stand on the shoulders of great authors gone before and only by hard work will you succeed. 



Algonkian Home Page



About Algonkian Writer Conferences



Upcoming Events and Programs



Contracts, Careers, and Comments



Frequently Asked Questions<
---
4 topics in this forum
Algonkian Writers Conference Events and Retreats - Ongoing Client Review: Manuscripts to Market Editorial Service - $2300.00+ - Rolling Admissions: Novel Development and Writing Program, Online, $799 - March 10-13, 2022 : New York Pitch Conference, ONLINE ZOOM, $795 - March 17 - 20, 2022 : New York Pitch Conference, LIVE IN NEW YORK, $795 - March 23 - 27, 2022 : Algonkian Park Workshop Retreat, $1095 - (Map/Directions) - April 14 - 18, 2022 : Monterey Writer Retreat, $1095 - (Map/Directions) - May 18 - 22, 2022 : Provincetown Novel Writing Retreat, $1095 - (Map…

J.R. Roessl, who attended the 2020 St. Augustine Author-Mentor Novel Retreat, was recently signed by a faculty agent at the retreat. The PM announcement as follows: "Former model J.R. Roessl's HERITAGE, the 1960s-era coming-of-age story of the author raised on a boat built by her father and christened Heritage, where the family dynamics were just as treacherous as the pirates and stormy seas, to Rick Rinehart at Lyons Press, for publication in spring 2023, by Adam Chromy at Movable Type Management (NA). Audio rights to Addi Wright at Blackstone Audio." Agent Amy Collins of the famous Talcott Notch agency just signed SFF writer Sandra Kruse to a two book…

About Algonkian Events and Workshops Haste born of impatience is a writer's second worst enemy. Hubris is the worst. - Director Michael Neff Algonkian Writer Conferences began in late 2001 on the banks of the Potomac River at Algonkian Park in northern Virginia. With its beautiful setting and cottages, it seemed a natural place for a workshop, and thus, Algonkian Writer Workshops was born. By 2004 it had expanded to include more professionals in the literary business, i.e., agents, editors, and authors, as well as more events such as the New York Pitch Conference. At Algonkian events, we maintain intimate, carefully managed enviro…

What is the Purpose of Algonkian? To give writers in all genres a realistic chance at becoming published commercial or literary authors by providing them with the professional connections, feedback, advanced craft knowledge and savvy they need to succeed in today's extremely competitive market. What is Your Strategy for Getting Writers Published? - A model-and-context pedagogy that utilizes models of craft taken from great fiction authors and playwrights, thereby enabling the writer to pick and choose the most appropriate techniques for utilization in the context of their own work-in-progress. - Emphasis on providing pragmatic, evidence-ba…

WTF is Wrong With Stephen King?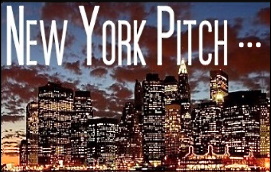 ALGONKIAN SUCCESS STORIES
---