AAC Desert Buffet and Bad Novel Writing Advice
A relatively interesting grab bag of things and illuminations such as Kara's Cabinet of Themes and Curiosities, Algonkian coffee pitching, plus sassy and intellectual reviews of novel writing videos. More to come too! Love you guys.
We are the makers of novels, and we are the dreamers of dreams.
Forums
The Best of AAC. A collection of ravels and unravels, combed feed, and worthwhile nuggets plucked from many sources here at AAC. Kara carefully selects only the best and presents them in an array certain to illuminate and entertain.


Are You Ready to Get Published? Part I
Are You Ready to Get Published? Part II

A forum for posting and commenting on the many (and often ridiculous) novel writing advice videos found on Youtube. Feel free to let it rip, but be respectful. Nothing derogatory concerning the speakers. The mission here is to expose and question bad novel writing advice that does not bear up under scrutiny. Members of the Algonkian Critics Film Board (ACFB) include Kara Bosshardt, Gardner Browning, Joseph Hall, Elise Kipness, Michael Neff, and Audrey Woods.

Stephen King's War on Plot
Writing a Hot Sex Scene
The "Secret" to Writing Award Winning Novels?

Marketing our Algonkian Writer Conferences coffee brand. Goes perfect with Author Connect, and in so many ways. Crafted for writers by writers. A smooth, full-bodied blend of Sumatran velvet and Nicaraguan dark. Guaranteed to get your creative juices flowing. Seriously. It's damn good coffee, and if you don't like it we'll refund via Paypal. No joke.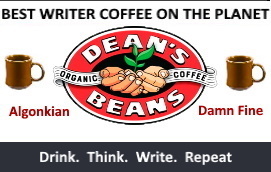 Stephen King's War on Plot

---
An Algonkian Success Story
Online Programs, Events, Services
Algonkian Events
New York Pitch Conference